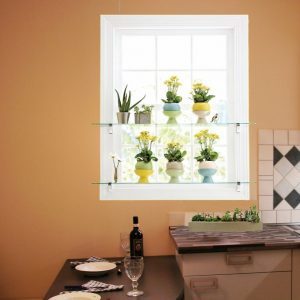 Kitchen windows bring natural light into the most popular room in the home for hosting, but don't inherently offer much in the way of character (other than perhaps some curtains or valence which take away some of that natural light). What if you could bring more character to the kitchen window without taking away from the natural light? Installing glass shelves is the perfect (and easy) solution that requires only basic tools and offers plenty of options in the way of adding character.
Do-It-Yourself Glass Shelf
Materials:
Glass suction cup brackets that fit in the window frame or between two cabinets framing the window; two per shelf.
Custom sized tempered glass shelves to fit within the window, leaving just enough space to slide in without being too tight of a fit.
Directions:
Measure the depth and width space of your kitchen window (or two cabinets framing the window), and order your glass shelves.
Carefully measure and install your brackets onto the sides of the window frame or cabinets framing the window.
Slide in and secure glass shelves into the brackets.
Fill your shelves with small plants or colored glass art pieces to filter the light. If you don't already have items to fill your shelves, you can often times find some unique items at antique stores or some thrift stores. Get creative!
Glass Shelves
Glass shelves are a simple way to add character to your kitchen and utilize space that you never even knew you had! It's an easy DIY project that almost anyone can put together, and ordering custom finished glass is simple through One Day Glass. Click here for instant pricing / online ordering.