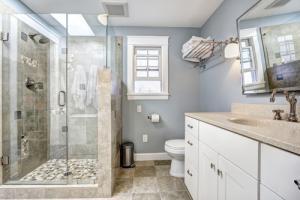 Frameless glass shower doors add beauty and elegance to your bathroom remodel project. Frameless shower doors are custom manufactured so you aren't limited to purchasing only standard sizes or shapes that are perfectly square.
Look Better: The shower door looks much less bulky than their framed counterparts. You see the beautiful glass edge not edges covered in metal and rubber.
Thickness: These shower doors are 3/8" or 1/2″ Tempered Glass. Anything less than 3/8" is too flimsy and thicknesses over ½" become heavy and hard to handle.
About Frameless Glass Shower Door
Measuring: It is important to carefully measure the opening. Most openings are not square so exact measurements to one-sixteenth of an inch is important. The glass will be custom cut to your specifications giving a great fit without unsightly gaps.
Durability: Some people have concerns about the durability of a frameless glass shower door, but since they're made of the tempered glass they are incredibly durable. You can accidentally run or bump into your frameless glass shower door without a second worry as the door will hold up with ease.
Options: Doors come with a selection of hardware such as hinges and handles.  You can choose to use your own hardware and opt to have cutouts manufactured into the door. Depending on your thickness. There are options for tinting and frosting as well as options such as bright guard to keep your glass looking like new for years.
Increase the value of your home and make your bathroom more beautiful. A frameless glass shower door adds a touch of elegance.