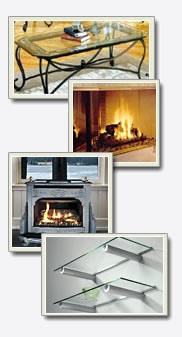 Woodstove Glass - Customized for your needs
If you are looking for quality wood stove glass for your home heating needs, we provide custom wood stove glass doors that have been heat treated to increase strength and thermal shock and prevent injury due to breakage.
Ideal Solution for Woodstove Glass Replacement
Are you looking for wood stove glass replacement? We also offer super heat resistant NeoCeram® that is the perfect solution for use as cast iron woodstove glass doors where the panels are less than 6 inches from the hot burning fire.
The glass in your wood stove door or fireplace gives you a clear view of the fire burning. This is part of the ambiance of having a wood stove or fireplace. When you have glass in the wood stove door, it makes it that much more enjoyable to have a fire burning on a chilly fall evening or a cold winter day. Sometimes, due to accidents, the wood stove glass gets broken. We can replace it for you. We custom cut the woodstove glass to meet your needs. If it is curved or any shape other than a rectangle, provide us with a template and we'll cut it to your specifications. One Day Glass specializes in 24 hour turn-around so you have your wood stove glass back in your woodstove door and you are back in service, once again enjoying a romantic fire on a chilly evening.
NeoCeram® is commonly referred to as glass but it is actually a transparent ceramic. Neoceram is 3/16" or 5mm thick. Unlike true glass, NeoCeram® withstands continuous exposure to high temperatures without fear of destruction. It is also resistant to failure due to temperature variation. This makes it the ideal solution for many wood stoves and fireplaces where glass panels are less than 6 inches from the flames. We offer optional tints or colors for your custom order.
Call us with your questions or visit our Frequently Asked Questions or Order Now Online to send the specifics of your project.