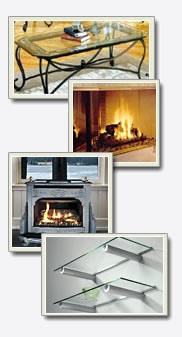 One Day Glass can accommodate your custom glass cutting needs quickly.
Cutting Tempered Glass
We are often asked if we can cut glass that has already been tempered. Unfortunately, the answer to this question is no. All fabrication is done prior to tempering. That means we cut your piece to your exact specifications, drill and edge, and make all necessary customizations. Then we heat treat it in our unique vertical tempering furnace* and ship it to you.
If you need any shape of tempered glass, NeoCeram® or Pyroceram® that isn't rectangular or square, just let us know the dimensions and we can make it for you. We make circle cuts based on your diameter or radius. But for something neither rectangular nor round, our craftsmen take great pride in consistently cutting glass to your exact pattern.
We can cut to almost any shape! In many cases, we can follow a written description that you have added on our order form in the comments section. If there are special changes or hard-to-describe dimensions, feel free to submit a preliminary drawing for approval by e-mail to support@onedayglass.com or by fax to (360) 892-8152.
Of course, for best results we may recommend that you provide a paper template; there is no substitute for an exact pattern. Please make a tracing of your glass and mail it to us at:
Peninsula Glass Company, Attn: One Day Glass
6005 NE 121st Avenue
Vancouver, WA 98682
Please include your name and contact information on or with the pattern and one of our customer service reps will contact you once the pattern is received to confirm your order.
Extra charges may apply for patterns and circle cuts. Please contact us to discuss your custom needs.