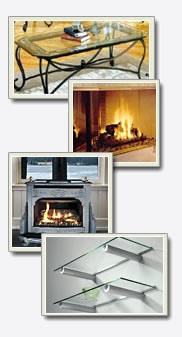 Custom & Standard Edgework
One Day Glass can put the perfect edge on your glass. Whether you need standard or specialty edgework on your glass, you can be assured that with One Day Glass each edge will be precision machined on our state of the art edging machine. Just let us know if your project requires a special edge. If not, we'll still make sure you always get pieces with edges that are sanded and safe to handle.
Standard Edgework - Included on all orders for FREE:

This is our standard finish and is included at no extra charge on all pieces. Perfect for items that will be installed so that the edges of the glass will not be seen, these edges are sanded smooth so the glass is safe to handle but it is not necessarily decorative.
Specialty Edgework - For when you need a decorative finish:


This finish is very popular. The end result is a glass edge that has a slightly rounded shape and is shiny and glossy.
This edge is finished so it is slightly rounded and has a matte, frosty or satin finish.
Specialty Edgework options can be added to any pieces or shapes for an extra charge. Use the Request Quote feature below to quickly estimate the cost for your specific project.
Still not sure? Need more info on edgework? Email us with your questions or check out some FAQs:
Let us know if your requirements call for a special edge. Our machine shop can handle most any task. And of course, we do it quick and right!