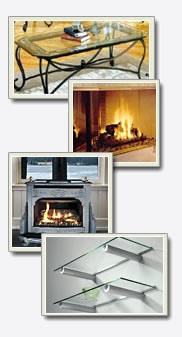 Because One Day Glass has onsite glass tempering* capabilities, we can drill and cut your glass - and then heat treat it for tempering.
We can drill 1/8", 3/16", 1/4", 5/16", 3/8", 7/16", 1/2", 9/16", 5/8", 11/16", 3/4", 13/16", 7/8", 15/16", 1", 1 1/4", 1 1/2", 1 3/4", 2", 2 1/4", 2 1/2", 2 3/4", 3" holes in tempered glass, NeoCeram® or PyroCeram® to your specifications.
We also do circle cuts for you when you need a perfectly round piece of glass, perhaps for a table top, small instrument or portal.
Take care with making your measurements and providing a description to us. In most cases we can follow a written description that you have added on our order form in the comments section. If there are special changes or hard-to-describe dimensions, feel free to submit a preliminary drawing for approval by email to support@onedayglass.com or by fax to (360) 892-8152. Of course, for best results we may recommend that you provide a paper template; there is no substitute for an exact pattern.
Extra charges may apply for holes and circle cuts. Please contact us to discuss your custom needs.